I got the book
Bible Stories for His Beautiful Princess
the other day in the mail. Scott immediately asked me if I was trying to tell him something. And I told him that we are having a...baby!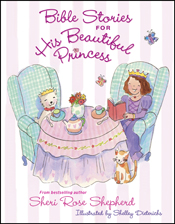 When it comes to children's story books, I tend to be quite picky. I didn't have high hopes for this book, but thought I would give it a try,
The stories were right on Biblically, huge plus in my book. The stories however were super short. They would be perfect for that time when you just need a super quick read. Or something that you can use as a springboard for a more in depth discussion.
The pictures were adorable. I can see a little girl enjoying looking at the book.
This book will be staying around on my bookshelf for future use!
Thank you to Tyndale for allowing me to review this book.
This is an affiliate post.