A Call to Resurgence: Will Christianity Have a Funeral or a Future?
I was a fan of the overall theme of this book. Christians need to promote who Christ is and what He has done for us. Although, I was not on the same page with Mark on everything that he believes, the main thrust of this book is good for all Christians.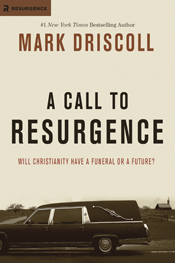 There are a few quotes from the book that I really liked.
"Politics do not lead culture so much as follow culture, contrary to what some believe."
Does this statement make anyone else scared? I don't like where our politics are going. What does our politics say about our culture?
" We are going to be persecuted. ... But we are to keep our wits and rejoice with gladness because this life is as close to hell as we will ever get."
No matter how hard life may get, heaven will be so much better!
"Today there are not sins. There is only one sin, and that is calling anything a sin."
Mark's main goal was to get us as Christians reaching out and witnessing to those around us. I need to daily work on doing a better job of sharing my God with others.
Have a blog? Sign up to get free books from Tyndale.
This is an affiliate post.
Linked to